How many types of popular grinding wheels do you know, today Mrbrianzhao is gonna tell you all. Many years ago, people used aluminum oxide and silicon carbide grinding wheels, these types of conventional grinding wheels with cheap prices but the service life is limited. So super hard grinding wheels were invented, the main materials are diamond and CBN.

Conventional bonded abrasives and super hard abrasive tools
Conventional Bonded Abrasive Wheels
Any abrasive tool must have an abrasive grain and a strong bond. Bonded abrasives, such as those used in grinding wheels, are composed of grains bound together by a fixative substance known as a bond. These abrasives are made up of abrasive material, bond, and fillers. The abrasive grains are essential for grinding wheels because they remove material from the workpiece. The abrasive grains for Conventional Bonded Abrasives can be aluminum oxide or silicon carbide.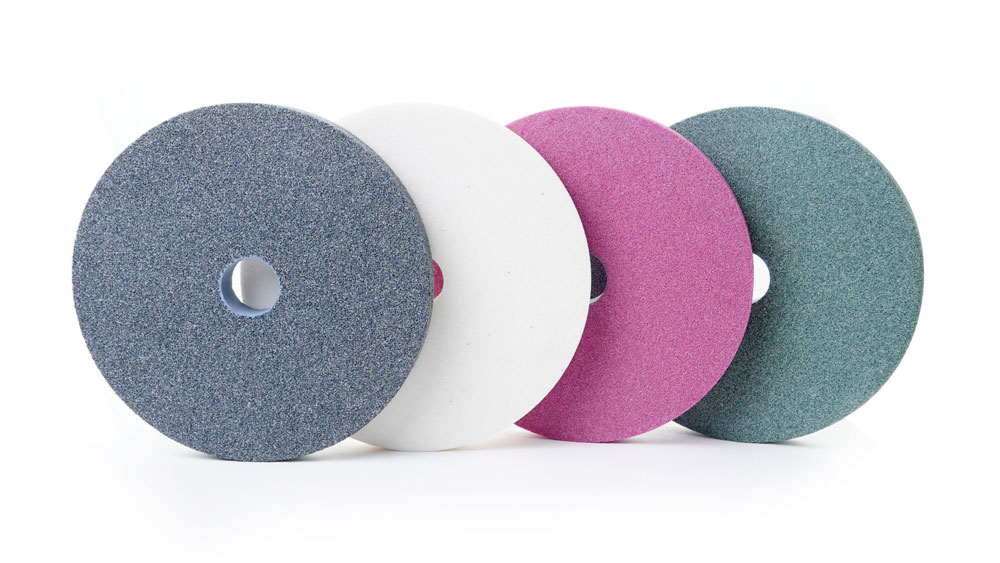 Aluminum oxide and silicon carbide grinding wheels
Aluminum oxide grinding wheel
Aluminum oxide is the most widely used abrasive in grinding wheels. Aluminum oxide abrasives come in a variety of shapes and sizes, each designed and mixed for a specific sort of grinding work. Each abrasive has its own designation, which is commonly a combination of a letter and a number. These identifiers differ depending on the manufacturer.
It is commonly used to grind carbon steel, alloy steel, high-speed steel, annealed malleable iron, wrought iron, bronzes, and related metals. 
Silicon carbide grinding wheel
Silicon carbide is a sharper and harder grain compared to aluminum oxide, but silicon carbide is less durable because it is brittle and has a more narrow shape that wears down at an increased rate. 
Silicon carbide is a non-ferrous abrasive that is used to grind grey iron, chilled iron, brass, soft bronze, and aluminum, as well as stone, rubber, and other non-ferrous materials.
Super hard Abrasive Wheels
Super hard abrasives are extraordinarily hard, with unparalleled performance and greater longevity. Industrial diamonds and CBN are examples of abrasives from the Superabrasive family. When compared to conventional abrasives such as Aluminum or Silicon Carbide, super abrasive grinding wheels often run at greater peripheral speeds of 20-30mtrs/sec or more.
A diamond grinding wheel is a specialized tool used to grind hard alloys, glass, ceramics, valuable stones, and other fragile materials. Diamond wheels can be classified into sintered diamond wheels (resin bond diamond wheels; ceramic bond diamond wheels; metal bond diamond wheels); electroplated diamond wheels; brazed diamond wheels.
Superior efficiency

Effective self-sharpening

Extended lifespan

Excellent form retention

Ideal for interrupted grinding applications

Excellent abrasion and heat resistance

Minimal cost
Aerospace

Mold manufacturing

Semiconductor manufacturing

Optical processing manufacturing

Ceramic industry
Because of their hardness, many people believe diamonds are the ideal grinding material, however, this is not always the case. You could be better off utilizing CBN grinding wheels. In many cases, they endure longer and might save you money over time by requiring fewer replacements.
Cubic Boron Nitride, or CBN, is the grinding material used in a CBN grinding wheel. Cubic Boron Nitride is a super abrasive material. Super abrasives, as the name implies, are more powerful than conventional abrasives, CBN abrasive grains has the similar features with aluminum oxide, so if you use aluminum oxide grinding wheels before, you can choose CBN grinding wheel for replacement, cause CBN wheel will have much longer service life and better performance.
Indefinite LifeSpan

Durable

Does not burn tools

Fine grinding
CBN is ideally suited for grinding hard metals such as:
Steels having a minimum hardness grade of 45Rc

Irons, both cast and wrought

Alloys of nickel
Diamond Grinding Wheel vs. CBN Grinding Wheel
You may be asking why you would use a CBN grinding wheel when diamonds are so much harder. The basic reason is that diamonds aren't designed to work with hard metals. Diamonds are preferable for grinding more fragile materials such as glass, quartz, and ceramics.
CBN does not react chemically with iron. When grinding most hard metals, CBN's lack of response allows it to remove more material and last longer than diamonds.
A grinding wheel with a longer life cycle has various advantages:
Fewer wheel swaps

Reduced downtime

Reduced maintenance expenses

Improved wheel performance as a result of more regulated wear rates

CBN is also superior to diamonds for grinding hard metals due to its extremely high heat conductivity. It can withstand temperatures of up to 1,000 degrees Celsius before degrading.

Even diamonds have lesser thermal conductivity than CBN, which is the finest natural heat conductor.
Aerospace

Power generation and wind turbines

Composites

Sharpening

Tool & die

Dental

Oil and gas

Mining

Automotive

Military
Different Bond Types of grinding Wheels
A bonding substance holds abrasive grains together in a grinding wheel. During the grinding process, the bonding material does not cut. Its primary role is to keep the grains together in various degrees of strength. Vitrified, resinoid, electroplated, braze, rubber, and metal are the most common grinding wheel bonds.
Metal bond grinding wheels are created by sintering powdered metals or compounds comprising cubic boron nitride or diamond on the wheel, resulting in incredibly robust tools that retain form even under harsh conditions. Additionally, metal bonding improves the life of grinding wheels by minimizing the need for repeated dressings, allowing them to be more productive than market-brand super abrasives.
Every superabrasive grinding wheel is made up of diamond or CBN grit held together by a matrix substance known as the "bond." Resin, vitrified, electroplated, and metal bonding techniques are the most common. Metal bond grinding wheels are possibly the most well-known of them, owing to their general utility and the amount of time they've been accessible.
1. Metal Bond Diamond Wheel
A metal bonded diamond wheel having a porous sintered body is made up of a combination of bonding metal powder particles coated with a layer of coating metal chosen from the group consisting of iron, cobalt, nickel, or an alloy.
High grinding efficiency

Long service life       

Good shape retentivity

High strength 

High-temperature resistance 

Thermal conductivity and good abrasion resistance
General grinding glass, ceramics, ferrites, tile, stone, and quartz. 
Metal Bonded CBN Grinding wheel has high efficiency, good self-sharpening, high stock removal, strong form retention, and good anti-wearing ability. CBN abrasive grains, metal powder and filler are mixed and sintered in its production.
Long using life

Excellent shape retention
Used for machining HSS, tool steel, stainless steel, mold steel, and titanium alloys, among other materials.
Electroplated grinding wheels are single-layered wheels in which the abrasives are held together by a thin coating of nickel that is regulated throughout the plating process. They are suitable for applications requiring a high removal rate for hard materials and goods requiring critical shape without the need for re-dressing.
1. Electroplated Diamond Wheel
The electroplated diamond grinding wheel is made by the electrochemical method. The working layer of the grinding wheel contains diamond abrasives which are bonded to the matrix by the metal bond. Firstly, deposit the metal bond and the thickness is 20% of the diamond abrasive height, and then the diamond abrasive is further bonded with the metal bonded, and the thickness of the deposited metal bond is about 2/3 of the diamond abrasive height.
High metal strength

Good wear resistance

Good brittleness

Better toughness
Precision Grinding: Electroplating allows for the production of wheels of various forms without deforming them. As a result, it is appropriate for precision grinding or rimming aluminium oxide wheels.

Cutting tool grinding: Electroplated wheels are used in standard end-mill grinders and drill grinders. A diamond wheel can be used to grind carbide.

Drilling and chamfering for the smartphone and tablet computer's glass panel. We could even mix grit sizes in the single diamond-mounted point.
Machining Industry

Optical glass Industry

Electrical & Electronics Industry
2. Electroplated CBN Wheel
Electroplated Cubic Boron Nitride (CBN) wheels are composed of a single layer or multi-layers (depending on application) of diamond or CBN particles bonded to the tool surface with a nickel matrix.
Precision grinding 

Grain and shape retention
High-speed tool steels

Die steel

Hardened carbon steels

Hardened stainless steels

Alloy steels,Titanium Alloy

Aerospace alloys

Abrasion resistant ferrous materials, etc
Ceramics

Plastics

Semiconductors

Medical
Brazed Grinding Wheels contain chosen diamond grains and a braze bond. Different designs may be used on Angle Grinders and other grinding equipment.
Efficient

High-speed grinding ability

Extended service life
Granite

Marble

Tile surface grinding

Edge chamfering
More than 75% of all grinding wheels are made with vitrified bonding. The abrasive is fully combined with finely crushed clay and fluxes in vitrified bond material. The bonding agent and abrasive combination is then formed into a wheel and heated to 2,400°F to fuse the components.
1. Vitrified Diamond Wheel
Vitrified diamond grinding wheels are a type of circular bonded abrasive with a through-hole in the middle formed of diamond powder and cemented with a vitrified (ceramic) bond. It is made up of three layers: the diamond layer, the transition layer, and the matrix.
Exceptional grinding efficiency

Abrasion resistance is high, yet abrasive consumption is minimal.

Low grinding temperature and a low grinding force

High accuracy, excellent surface quality, and form retention
Precision grinding of ferrous and non-ferrous metals, glass, ceramics, stone, marble, and many other materials.
Aerospace

Turbine Industry
CBN grinding wheels with vitrified bonds can withstand the most demanding precision grinding applications.
Shape retention

Better chemical stability

Heat, oil and water resistance

Longer service life

Abrasive has good self-sharpening

Highly durable
Hardened steel

Cast iron camshaft

Crankshaft

Gear shaft

Balanced shaft grinding

Finish polishing of Optical glass
3. Vitrified Aluminum Oxide Wheel
Vitrified bonds are created by fusing clays at high temperatures to form a glass link. The most prevalent abrasive is aluminum oxide. It is robust, inexpensive, and fracture resistant, making it ideal for general purpose deburring and blending.
Premium friable grain

Light stock removal

Excellent for use on heat sensitive materials and exotic alloy materials

Excellent for use in tool and cutter grinding as well as surface grinding of steel tools.

Cool cutting on heat sensitive material
Steel Industries

Bearing Industries

Fabrication Units

Non Ferrous Industries

Precision Grinding Industries
3. Vitrified Silicon Carbide Wheel
Vitrified bonded silicon carbide grinding wheels are ones where the bond is insoluble in water and is stable under all normal conditions of use.
Used to polish flat surfaces with bonded abrasive wheels or a set of wheels known as discs. These wheels, also known as nut or bolt inserted discs and plate mounted discs, are available in a variety of diameters ranging from 250mm to 600mm in diameter and with usable abrasive thicknesses ranging from 25mm to 100mm. They are utilised in the automotive and automotive auxiliary sectors, as well as ball bearings, piston rings, and coil springs.
Resin bonded grinding wheels come in second place to vitrified wheels in terms of popularity. Phenolic resin, either powdered or liquid, is combined with abrasive grains in a form and cured at 360F. Resinoid wheels can grind at rates of up to 16,500 SFPM. Their primary application is in rough grinding and cut-off operations.
1. Resin Bond Diamond Wheel
Resin Bond is extremely flexible, covering more than half of the grinding applications where Diamond grinding tools may be employed. Resin-bonded diamond wheels are used to cut and grind diamonds. Bond matrices are offered for dry, mist, and flood applications, and their innovative bonding technology allows for quicker cutting and grinding of diamonds of various hardness and abrasion resistance.
Vibration-free 

Maximum operating speed

Robust design
It is used in the carbide cutting tool business, the ceramics industry, the glass industry, the quartz industry, the thermal spray industry, and a variety of other specialty products.

Surface grinding, OD grinding, centerless grinding, tool grinding, fine grinding, double disc grinding, and slot grinding are all examples of grinding processes.
Most steel grades may be ground using CBN, however they must have a hardness of 45Rc or above. There have been situations when soft steels have been ground using CBN, but many various conditions must be considered. CBN resin bond wheels are successful and lucrative for grinding HSS, A series, T series, and most stainless steels.
Offer precise and clean cuts

Good surface removal of workpiece
All carbide metal grades, Cermet, Ceramics, Glass, PCD/PCB, Quartz, Ferrite, Semiconductor materials,Graphite,Hard facing alloys, Glass fibre reinforced plastics, High speed steel (HSS) , Stellite ,Nickel-based special alloys, to manufacture Fresh tool and re-sharpening, on CNC Tool and Cutter Grinders.
3. Resin Aluminum Oxide Wheel
Aluminum oxide is made up of blunt-shaped grains and is extremely tough in its most refined state. The crystalline structure and chemistry of aluminium oxide may be changed during the melting step, allowing the producer to develop a range of products with varying performance.
Developed for use on a variety of steels, nonferrous metals, and wood.

Allows for pleasant and steady grinding.
The Aluminum Oxide Resin Grinding Wheel offers pleasant, steady grinding on a variety of steels, nonferrous metals, and wood.
4. Resin Silicon Carbide Wheel
The resin-bond silicon carbide chamfering wheel is ideal for fine chamfering of ceramic tiles, with smooth, sharp chamfering and a long continuous work period.
Extended Performance

Time saving performance

Cost saving performance

Manpower saving performance
Used in the manufacture of metal, stainless steel, ceramic, gem, and other stones.
Rubber Bonded Grinding Wheels vary from other bonded grinding wheels in several ways. They are as tough and powerful as the others. The finish they provide is high and rich. Rubber Bonded Grinding Wheels are divided into two types: rubber centerless grinding wheels and rubber surface grinding wheels.
Rubber Control Wheel and grinding wheel
Longer wheel-life

Lesser dressing frequency

Superior form retention

Superior surface finish
Bearing Industry

Automobile Industry

Hydraulic Industry

Cutting Tool Industry
Above are the most popular grinding wheel types and their different applications, you can choose the proper ones for your production. If you still have any questions during your grinding and polishing for your workpieces, Mrbrianzhao will always be here to support you.